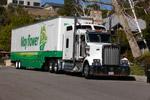 If you're in the business we're in, you're interested in why people move. 
According to Zillow, here are the reasons people move:
New Home – Most of the people who move do so for the house itself.
Family – Getting out of mom and dad's house seems to be a big motivation!
Work – People move because of a new job, to find a new job, a job relocation, or to reduce their daily commute time.
Whatever your reason, T&G Mayflower Transit & Storage is here for you!
Source: Zillow